Being a prosthetics company, fitting breast prostheses is a natural addition to our services. Our compassionate staff make all our patients feel at ease. Our team of certified female fitters provide Amoena breast forms, mastectomy lingerie, swimwear and associated products with personalised and discreet consultations.
Currently this service is only available in Brisbane, but we will hopefully be able to provide the same service at our Townsville office soon.
Please contact our office on 07 4766 4130 to make an appointment.
Home visits are available by appointment.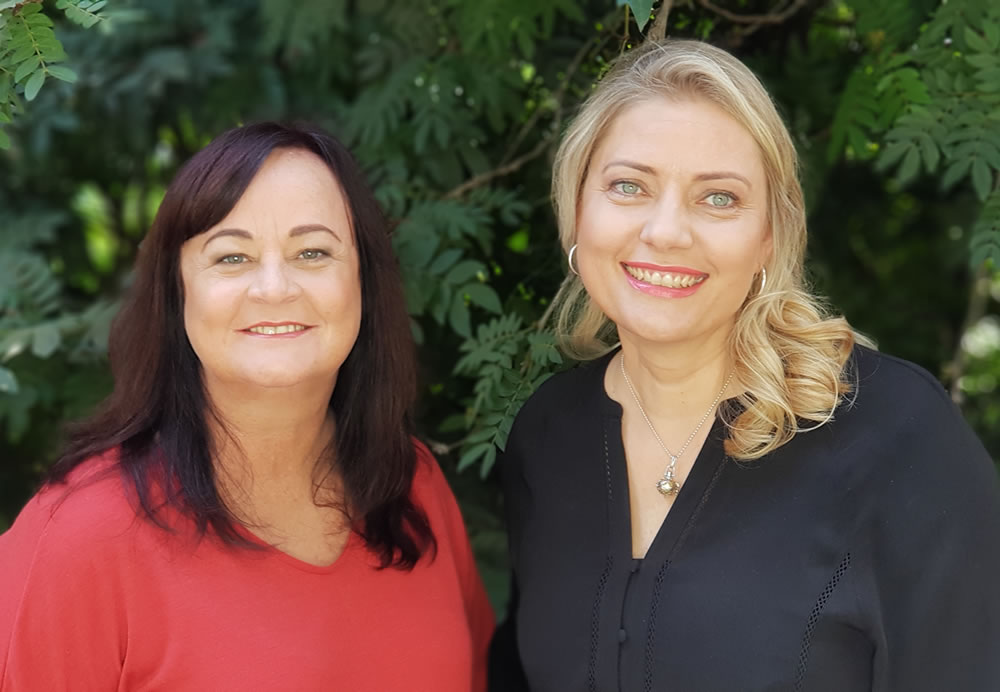 Gina Osborne and Adri Crous
What Is a Breast Prostheses?
Breast prostheses are artificial breasts designed to mimic the appearance of your own natural breasts after a mastectomy. Manufacturers of breast prostheses use silicone gel to give them the same feel and look as your own. They are typically designed to fit inside the bra cup.
When you visit a clinic, you'll need to wear form-fitting clothes when you try on prostheses. The fitter will use several factors to determine which prosthesis is best for your needs. The shape, size, and texture of your breasts will all play a role in choosing a prosthesis. Afterward, the fitter will provide you with instructions on how to care for your prosthesis. 
Breast prostheses are worn by many women who have had breast cancer, and they may also be useful if your breasts are unevenly reconstructed. 
What Are the Different Types of Breast Prostheses?
Breast prostheses come in many shapes and cup sizes. For women who have had breast-conserving surgery, there are partial breast prostheses, also called balance shapers. Each prosthesis has a different amount of silicone and varies in size, so the patient can choose a prosthesis that perfectly matches the remaining tissue. There are two main types of breast prostheses: symmetrical and asymmetrical. Symmetrical prostheses are even on both sides and can be worn on either the left or right side of the body. Asymmetrical prostheses are designed specifically for the right or left side.
Contact prostheses are lightweight and comfortable. With a unique gel adhesive that attach to the skin, they can be worn with less-supportive bras and undergarments like tank tops. Some types of breast prostheses are suited for water activities like swimming.  Their symmetrical form features raised waves on the back that allow air and water to flow through, reducing the amount of suction.
What Are the Benefits of Breast Prostheses?
One of the biggest benefits of breast prostheses is that women can wear a breast form in a bra or bathing suit. A trained fitter can provide you with information regarding your options and make a decision that will be right for you. 
Another benefit is the symmetry that the breast prosthesis gives you. It helps you regain your body's centre of gravity. Breast prostheses can even make it possible for you to play sports again! Moreover, you can choose from various sizes and shapes of breast prostheses. You can choose the prosthesis to best suit your unique needs.
 Do Breast Prostheses Have Side Effects?
A temporary prosthesis is made of a material that will not hurt the healing area. It is a convenient alternative to breast reconstruction. Many prosthesis manufacturers also manufacture special bras with built-in pockets that support the weight of the prosthesis.
How Much Does a Breast Prostheses Cost?
It costs between $160 and $500.   Medicare provides reimbursement of up to $400 for a new or replacement external breast prosthesis every 2 years.
How Long Does a Breast Prostheses Last & how often should they be replaced?
Breast prostheses usually last around 2 years, which can be prolonged if cared for correctly.